BE THERE TO SEE IT HAPPEN! – May 15, 2008 ~ 4:30am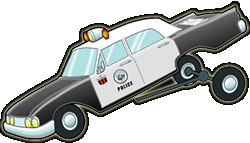 That's right….4:30 in the morning, just like when it was filmed back in '72! VIP Viewers will meet original American Graffiti production staff members including Academy Award winning cinematographer Haskell Wexler, the film's Visual Consultant; Assistant Director Ned Kopp; and Lighting Specialist Bill Maley. After the event, you'll walk around the corner to Jacqueline's High Tea for a delicious American Graffiti Breakfast with all the fixin's! VIP viewing also includes Debut and Destruction dash plaques, a special admission credential dash plaque, a program and, of course while you're watching everyone getting ready for the scene, the cop's favorite, coffee and donuts! There will also be a live DJ, lot's of American Graffiti music and several surprises!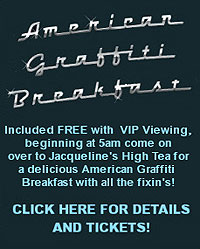 VIP Viewing is limited to just 75 people. Tickets are $100 each, $70 of which is tax-deductible or $135 each with the Salute 2008 DVD that includes this historic scene.
Tickets may still be available, but due to time constraints are no longer available for purchase online. If you would like to be one of the the few who get to see this historic event up close and personal, please call (707) 338-2201 or just come the the admission area located at the corner of Petaluma Blvd. North and Western Avenue at 3:30am on Thursday, May 15, but a call ahead will guarantee your ticket.